The eye anti-wrinkle patch uses matrix elastic fiber technology.
The eye anti-wrinkle patch is mainly composed of polymer hydrogel, honeycomb base elastic fiber and water microcrystalline gel, which can achieve high moisturizing, reduce fine lines and eliminate puffiness.
Embedded Structure Analyze
The matrix elastic fiber is embedded in between 2 layers of Aqua Microcrystal Gel
Condensate microcrystalline structure layer
first floor: Aqua Microcrystalline Gel
The second floor: Embedded Matrix Elastic Fiber
The third layer: Aqua Microcrystalline Gel
Tighten and moisturizing,give you back the 18 years old skin
1. Generates 6 directions of constant physical force. Mainly through "physical external force skin movement".
2.Supplemental skin nutrients. Mainly through "physical external force skin movement".
3.Exclusive patent. Won a number of international and national certification authorities.
4.5 major international certifications; 3 major Chinese certifications.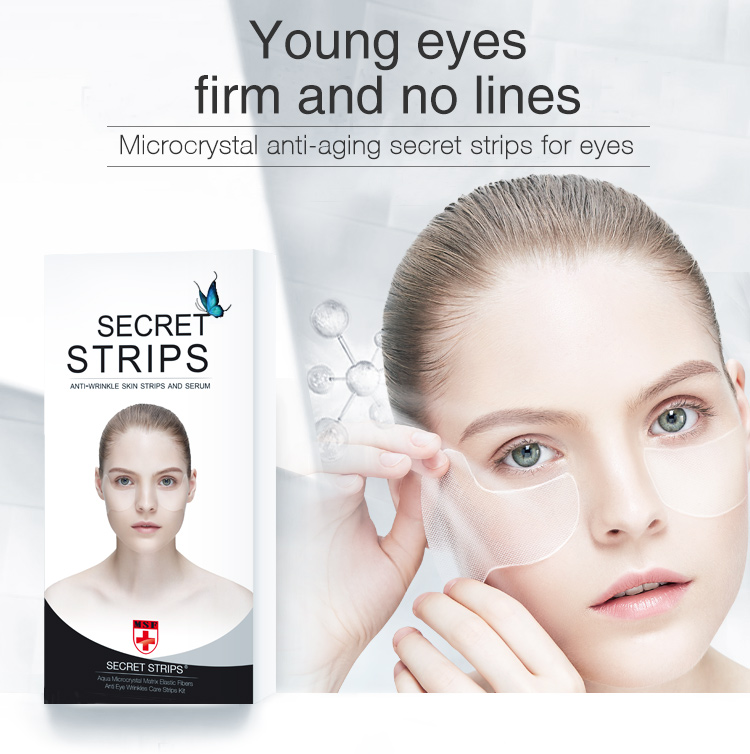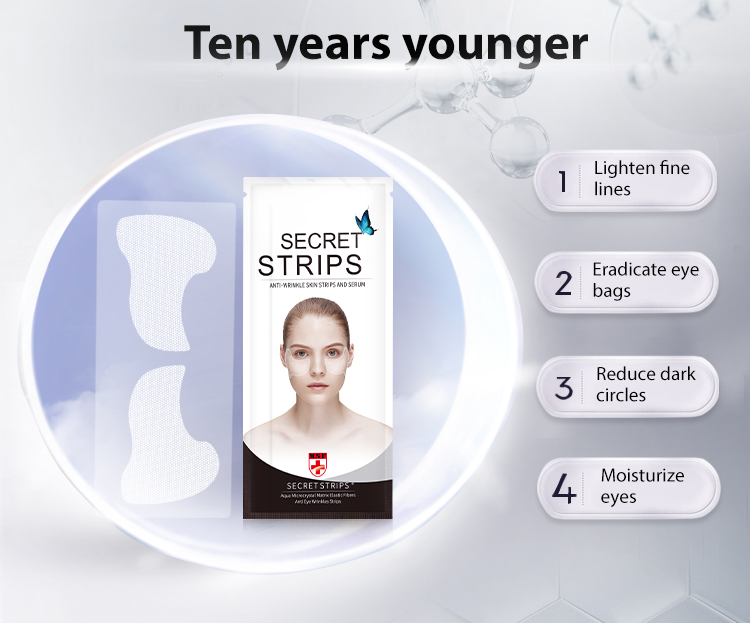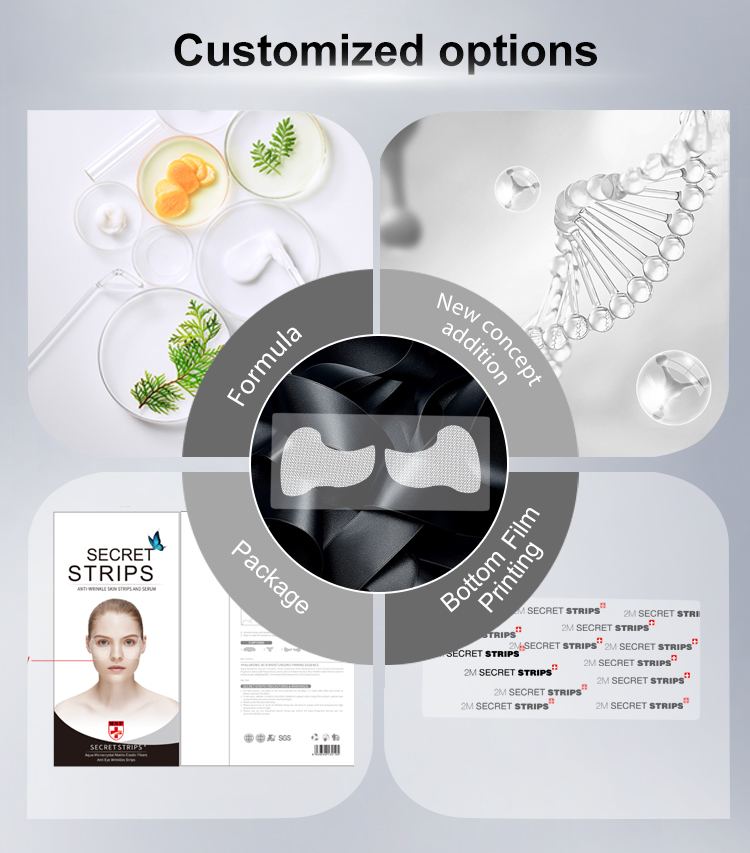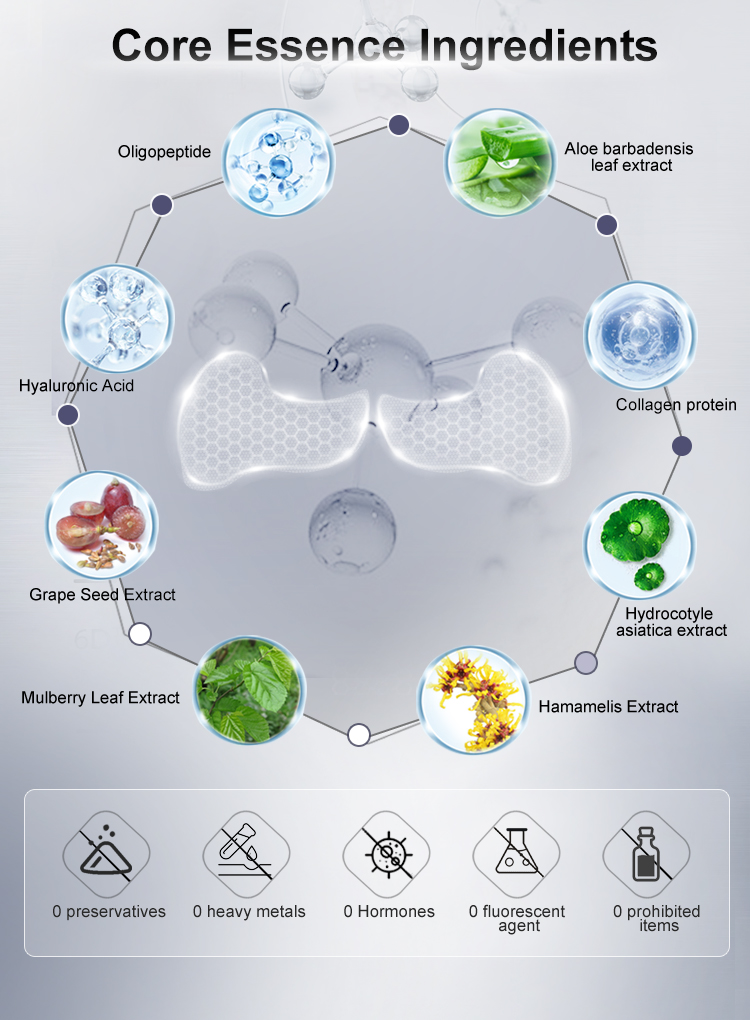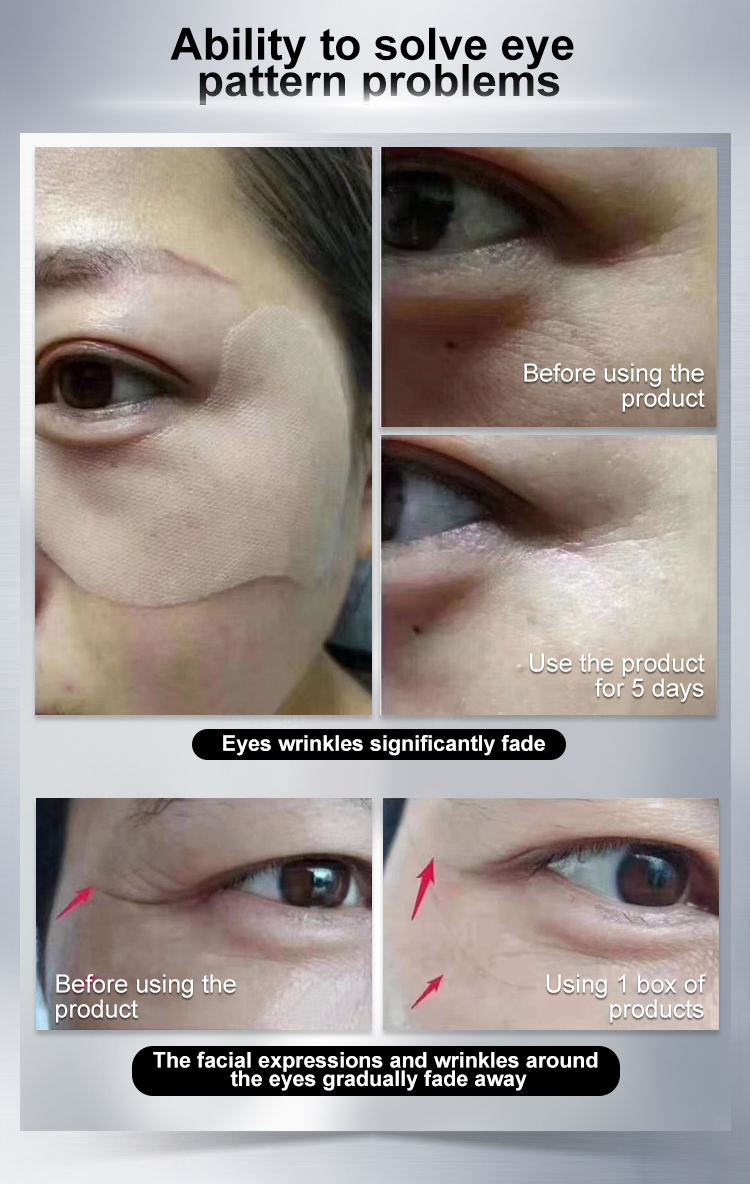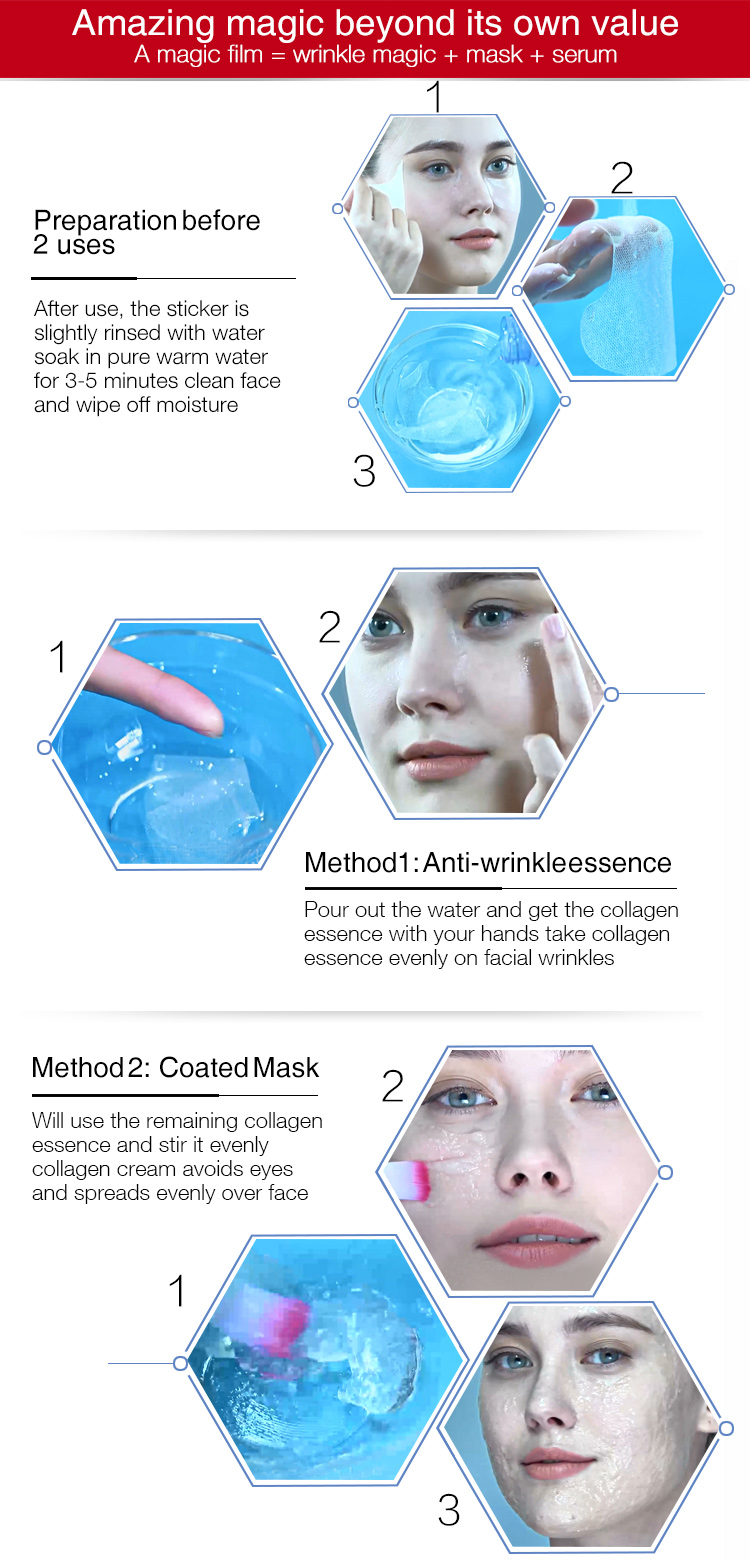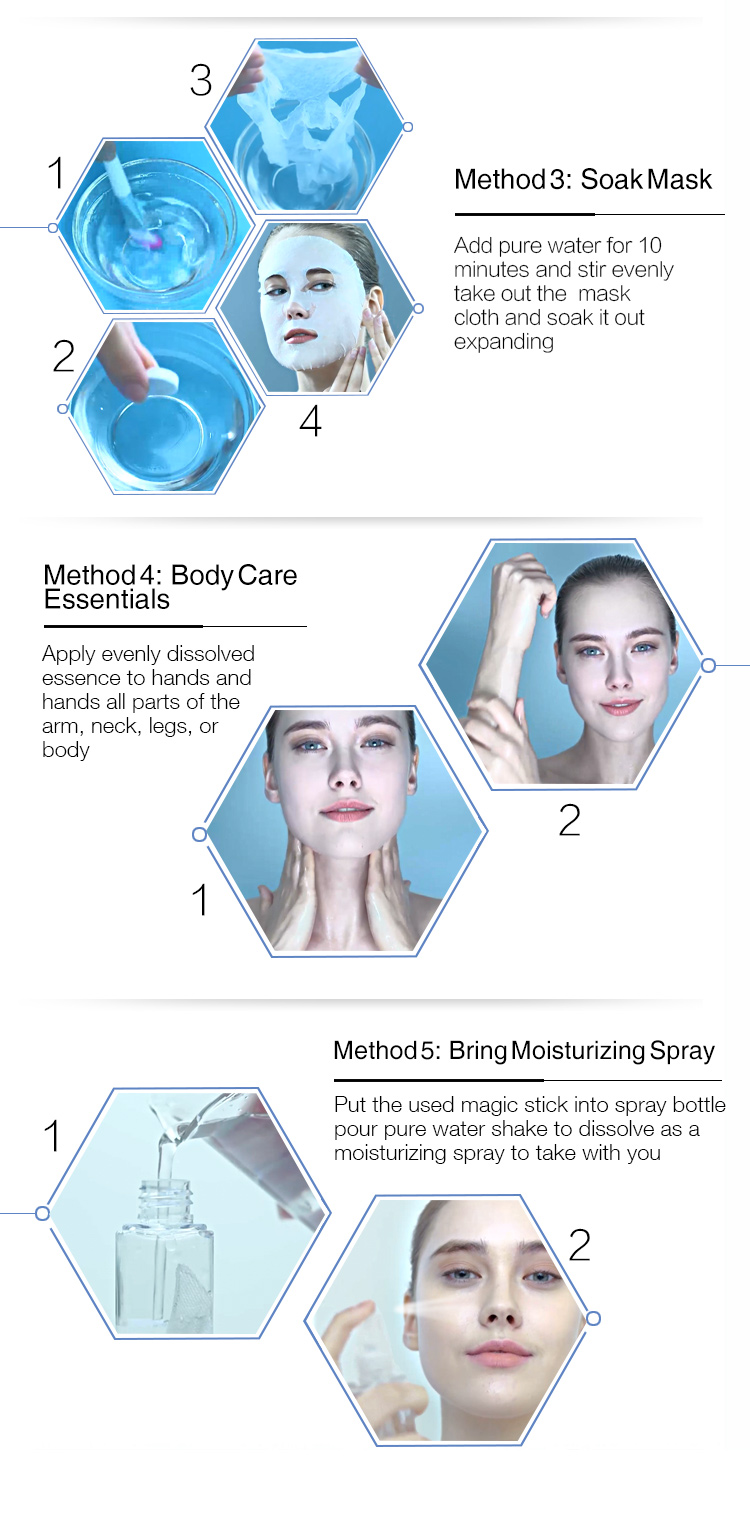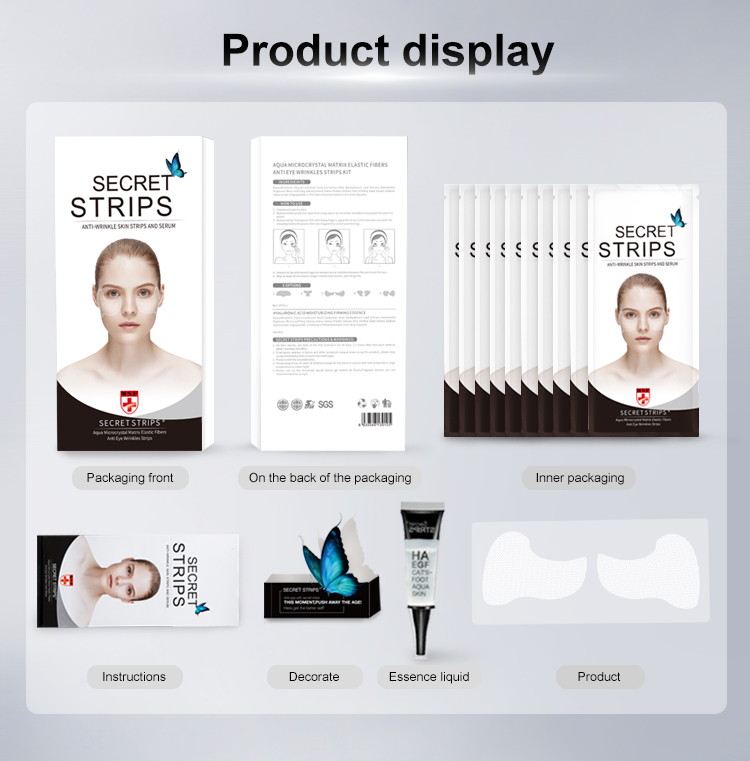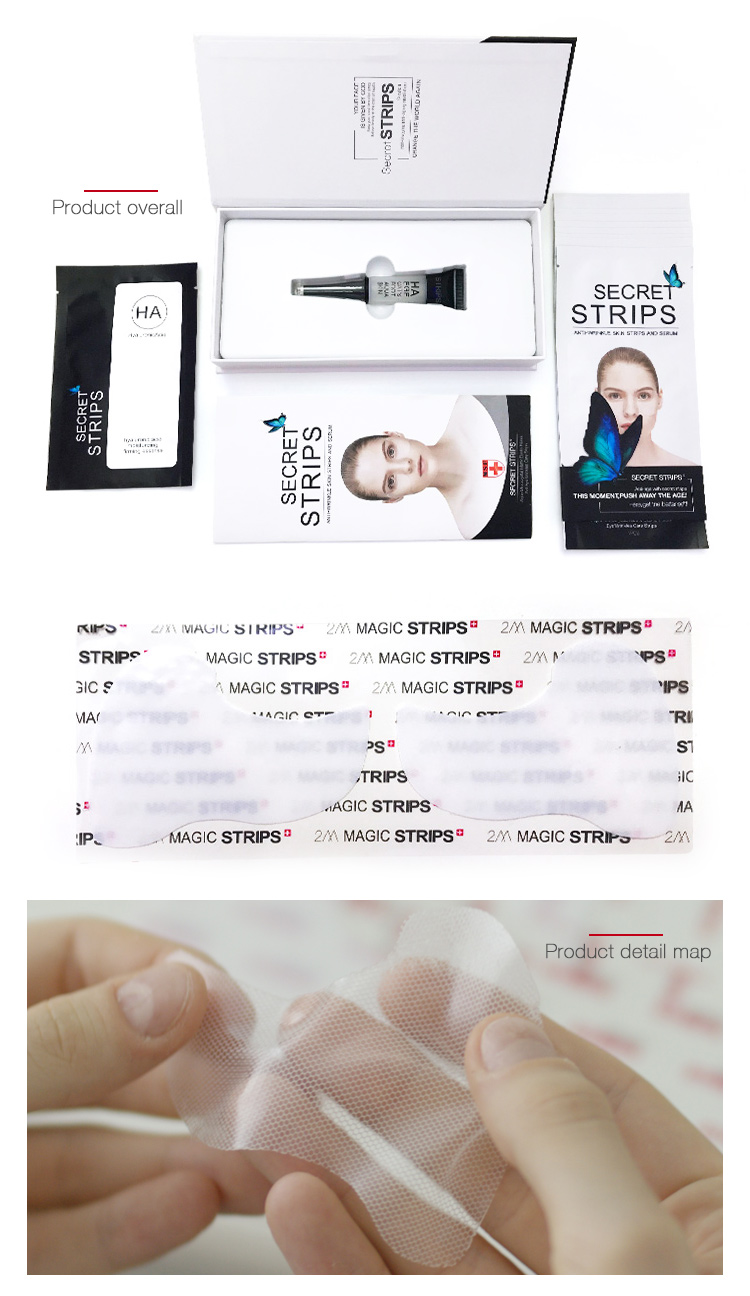 FAQ of Eye Strips For Wrinkles
What is Eye Strips For Wrinkles
Eye Strips have anti-ageing and brightening properties, removing fine lines and wrinkles under the eyes and restoring a healthy, youthful appearance to the skin.
How can it help you fight wrinkles and ageing?
Secret Strips is a system of water-based microcrystals and gels in strips that are applied to various areas of the face to combat the signs of ageing. These strips smooth out lines and stretch the skin to firm it up. The application of Hyaluronic Acid before and after Secret Strips moisturises the skin and creates a stronger waterproof barrier under the first few layers of the skin.
Why is Secret Strips' technology so amazing?
Secret Strips uses a unique technology to achieve a 'multi-dimensional lift' within the make-up. More simply put, once the strips are applied to the skin, they form an elastic web that smoothes and tightens the skin. This is achieved through a 3D matrix of microcrystalline fibres embedded in the strip. The honeycomb-like web formed by the microcrystals responds to the skin's naturally elevated temperature. Once activated, the web expands and stretches in six different directions.
How do Eye Strips For Wrinkles work?
The main purpose of Eye Strips For Wrinkles is to nourish and lift the skin under the eyes, usually in gel or fabric-like strips that are placed under the eyes and contain well-known ingredients such as vitamins, antioxidants, retinol or strong moisturisers.Secret Strips use a unique technology to achieve a " multi-dimensional lifting". More simply put, once the strips are applied to the skin, they form an elastic network that smoothes and tightens the skin
Are Eye Strips For Wrinkles better than eye creams?
Under-eye patches are very popular and serums can complement the patches to be more moisturising and effective. Secret Strips are anti-wrinkle for maximum effect by using under-eye patches and serums together
Will keeping Eye Strips For Wrinkles in the fridge make them more effective?
Many brands recommend storing eye patches in the fridge as their cooling effect on the skin lasts longer than eye creams kept at room temperature. The cooler temperature will help calm the skin, reduce puffiness and shrink pores, while the revitalising and nourishing effects of the product come from the actual formula.
Is Eye Strips For Wrinkles safe?
We care about the positive impact we can have on the world around us and your skin. We are zero cruelty animal supporters and we are as biodegradable, recyclable, vegan, paraben free, dye and fragrance free as possible. We are recognised by dermatologists, plastic surgeons, aestheticians and beauty media worldwide and our products are sold in over 40 countries and are ARTG approved, FDA approved and EU certified.
Are you a factory or a distributor
We are a factory. Our factory covers 12,000 square metres. With totally exclusive core technologies, including embedded matrix elastin technology, Aqua microcrystalline gel proprietary technology, and theoretical design technology for human facial engineering structures. Awarded 3 z Chinese patents and 5 international certifications, bringing a new paradigm of safe and intervention-free wrinkle reduction to women worldwide. Recognised by AMAYA as the International Most Promising Anti-Aging Product Award and International Beauty Project Contribution Award.
Can I customise my own Eye Strips For Wrinkles?
If you have any customisation needs for this product, or if you would like to add your own design, change the shape of the patch, etc., please feel free to contact us! We are not only a laboratory, we have a full-fledged production line to customise your order!